Twitter Video Downloader – Twitter Videos & Gifs Downloader
Sample Tweet: : https://twitter.com/i/status/1558876927280259077
How to download Twitter videos online​
Twitter has seen tremendous growth in recent years, with over 100 million active users as of  2006 and 500 million tweets posted daily.
Twitter provides millions of remarkable, high-quality tweets in text, photographs, and videos for entertainment and education. It also offers content that is not available anyplace else.
So, what do you do when you come across a great Twitter video but don't have time to view the entire video or find it so helpful that you want to store it to use as a reference tool later?
Fortunately, there is a creative and straightforward technique to save and preserve Twitter videos on your device, which I will demonstrate below.
Point to be noted: You should be aware that the videos contain copyright rules that must be observed. Therefore, before downloading the videos, make sure you read the policies.
How to Download Twitter Videos on PC or Desktop
Twitter videos can be quickly downloaded to your PC. Several websites make it very simple to grab a video from Twitter. Twitter Video Downloader is one of the best websites for them to download Twitter videos. You can browse these websites and download your favorite Twitter videos. All you have to do is follow the steps below:
How to Download Twitter Videos and Gifs?
Copy the Twitter video URL by clicking the Share button or Address Bar.
Paste the tweet URL in the form on top of the page. Then click the "Download" button.
After Clicking on Download the Video Will be Automatically downloaded on your device.
Visit Twitter and hunt for the clip you want to save.
Now, copy the direct link to the video you wish to download from the tweet.
Copy the Twitter video URL by clicking the Address Bar.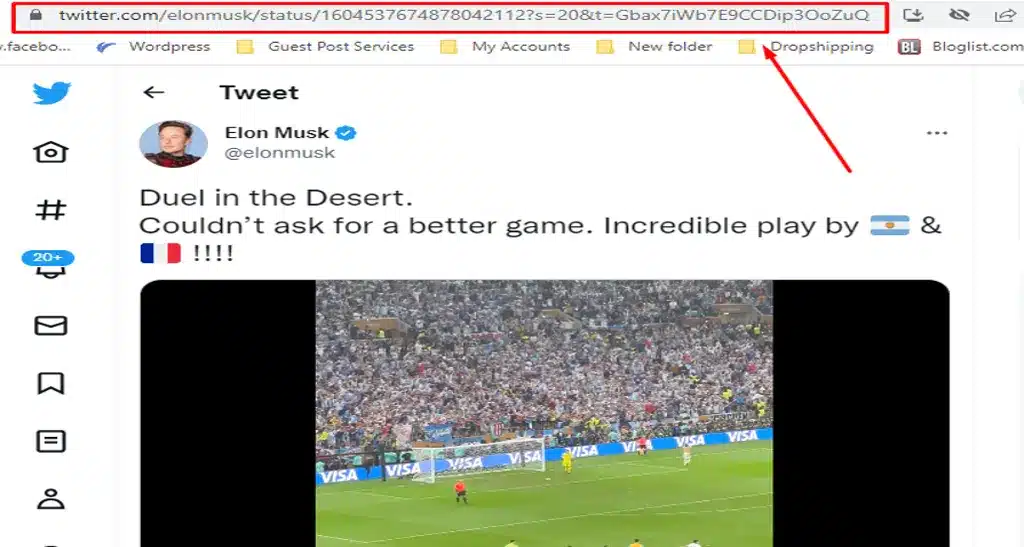 Right Click on the Video and Select "Copy Video Address"
Click on the Share Button and then "Copy link to Tweet"
Go to the website downloadertwitter.com past the URL and click on Download.
Choose the file size and Click on the file size button and the video automatically Download on your device.
How to Download Twitter Videos on Android Mobile
An Android app can also be used to download a Twitter video. First, download the Download Twitter Videos application on your smartphone to download Twitter videos. This tool makes it simple to download videos from both Twitter and Instagram. Here's what you need to do next:
Open the Twitter app on your smartphone and navigate to the Tweet containing the video you wish to save.
Tap the Share button, then choose Copy the URL to Tweet.
Now, navigate the Twitter Video Downloader and paste the link. Then, click the download icon at the bottom right corner of the page.
In the meantime, the video will begin to download. To watch the downloaded video, open the application and select the video you wish to watch. Alternatively, you may go to your smartphone's Gallery app and watch the video offline.
How to Download Twitter Videos on iOS Mobile
Compared to Android or PC, downloading a video on Twitter is a little more complicated. To download the video to your iPhone, you must first install Twitter Video Downloader. After that, proceed as follows:
Launch the Twitter app on your smartphone and navigate to the Tweet containing the video you wish to save.
Click the Share button, then choose Copy the URL to Tweet.
Now, on your iPhone, launch the Twitter Video Downloader.
A browser icon will appear in the bottom right corner. When you tap it, you will be transported to an in-app browser.
Open the website by typing https://downloadertwitter.com/ into the browser.
Paste the copied URL link into the box and press the Download button. When you tap it, a new download link will appear. Tap Download the File, and then give your saved video a name.
The app will save your video. To store a copy of your Twitter video on your iPhone, launch the video in the application and touch on Save to Camera Roll.
How to Download Twitter Gifs
Downloading GIFs from Twitter is not as simple as saving an image, but it's possible with a few steps:
Identify the Tweet: First, find the GIF you want to download.
Copy the Tweet URL: Click on the tweet to open it. Then copy the URL from your web browser's address bar or click on the 'Share' button below the tweet and select 'Copy link to Tweet of Gifs'.
Third-Party Use a Service: Because Twitter doesn't directly allow you to download GIFs, you'll need to use a third-party service like downloadertwitter.com. Navigate to your web browser.
Paste and Convert: Once you're on the third-party site, look for a text box where you can paste your URL (often labeled as 'Enter URL' or 'Paste link here'). After pasting the URL, there will usually be a 'Convert' or 'Download' button you can press.
Download the GIF: After the conversion process completes, you will usually see a 'Download' button or a link to download your GIF. Click on it and the GIF will be saved to your device.
Twitter Videos can run up to 140 seconds (or 2 minutes and 20 seconds) and allow users to teach, interact, and influence others digitally. Offline, though, it's a different story because you don't have access to such content.
So knowing how to download videos from Twitter is crucial if you want to save that incredible piece of content you just witnessed.
This was a complete guide on how to download Twitter videos in various settings. So, you now know that downloading Twitter videos is extraordinarily possible and not as difficult as you might assume. To download movies from Twitter, various ways and programs can be used. And you should surely not abandon material that you adore on Twitter since you deserve the finest!
I hope this tutorial post helped download videos from Twitter. You can forward this page to others to assist them in downloading Twitter videos using the online Twitter video downloader tool. Please provide your opinions in the comments section.
Here are the FAQs of Twitter Video Downloader